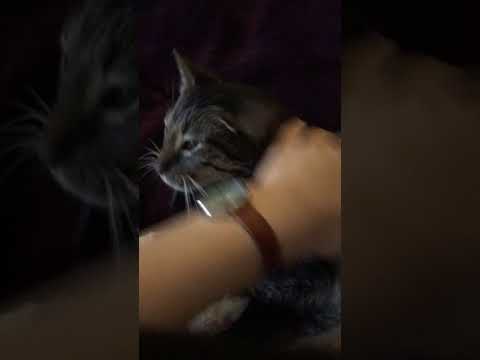 Howdy fellow Texans! My name is Yeehaw. I'm a two-tone, loving gray tabby that, with a name like mine, you'd expect to be the world's only rodeo-performing cat—but you'd be wrong. Although I never made it under the rodeo spotlight, I do enjoy scampering back and forth between the legs of humans as they walk to the fridge or down the hall. I'm a hoot and a half to watch!
When I'm not playing dodge-em with your legs, I can most likely be found cuddling up next to you on the couch or bed assuming you're already there. If you aren't, I'll remind you that it's always a good idea to climb into bed with my insistent meows and head nudges. Just being around humans is my definition of fun and play. String toys and squeaky mice need not apply, at least not for now.
One particular feature of mine that is pretty hard to miss about me is my two-tone appearance. I had a very mysterious reaction that even stumped the vet that caused me to lose the fur on the aft portion of my body while the up-front coat stayed factory fresh. Thankfully, my fur is beginning to grow back in an adorable peach-fuzz fashion, but it could be awhile until it's up to maximum fluffiness. It's hoped that switching to a hypoallergenic diet may speed things up a bit.
If you are ready to open your arms up to a loving, friendly and playful kitty like me, just do as Texans do and yell Yeehaw!
Sex: Female
Looks Like: Domestic Shorthair  
Current Weight: 7 pounds
Age: 7 years, 2 months
Meow Memo: Kids and dogs have not entered my world yet, but my brief playdates with the resident household cat went quite well. With a personality like mine, "the more the merrier" will very likely be my mantra.
About Austin Pets Alive!
Austin Pets Alive! is a private 501(c)3 nonprofit organization dedicated to stopping the killing of Austin's adoptable dogs and cats. All APA! cats are fully vetted, spayed or neutered, and have updated vaccines and a microchip.
---
About H-E-B
H‑E‑B is one of the largest independent food retailers in the nation. Today H‑E‑B serves families all over Texas and Mexico in 155 communities, with more than 340 stores and over 100,000 employees.
---
About Well Beyond Care
Well Beyond Care provides the tools that help you plan care and allow your loved ones to safely age in place. It is the only company that teaches families and individuals how to find and manage affordable non-medical in-home care, while solving the chronic problems of caregiver truancy and turnover.
---
Interested in adopting me? Please contact adopt@srgserv.com.
Note: This pet may have found their forever home since the publishing of this article. To see other adoptable senior cuties, visit here.