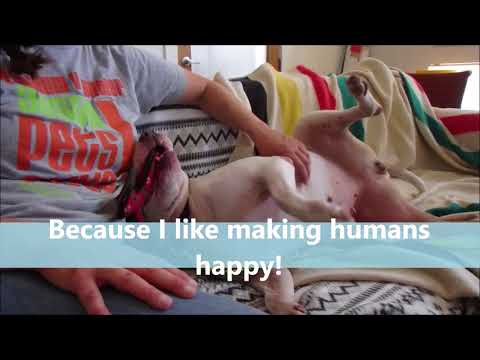 Hi two-legged friends, my name is Marilla. I'm a woof-able spunky senior who still has a spring in my step. I have the look of a bruiser but a sweet disposition and playful doggy-tude. I'm in good health and will make for a fun companion.
When I arrived at APA, they sent me into their TOP Dog training program since they saw I was quite knowledgeable and obedient. I loved learning even more and had no trouble in the program—proud to say I'm one of the best-trained dogs at the shelter. 
The Total Obedience Program (TOP) is modeled after the AKC's Canine Good Citizen (CGC) test. As a TOP dog, I have a personalized training plan and work with a volunteer trainer several times a week to help me learn the skills to become the best dog I can be! I am learning skills like sit and down, walking nicely on leash, sitting calmly when approached by strangers or other dogs, staying in a sit or down until told "free," and coming when called. I am proof that you can teach an old dog new tricks!
Once I have successfully completed all the skills on my training plan, I will be considered TOP Dog Ready! I am working very hard to become a wonderful pet. As part of APA's Total Obedience Program, you can work with APA staff to continue to build a training relationship with me after adoption so that we can master all the TOP dog skills together.
Just because I am a serious student doesn't mean I don't leave time for a bit of fun. I absolutely adore to play with a rope toy, especially if I can coax a game of tug from my favorite person. I savor walks, and after some exercise, I am ready to catch up on my beauty sleep.
I'm an independent woman but still love to be affectionate. I am never needy or pushy because that is so not ladylike. I do appreciate a good scratching or belly rub. I am completely house-broken, crate-trained and will learn the rules of any home quickly. I have so much love to give and would love to give it to you if you'll have me!
Sex: Female
Looks Like: Terrier, Staffordshire Bull Mix
Current Weight: 62 pounds
Age: 9 years, 9 months
Bark Notes: I adore having the attention all to myself and would do best not living with other dogs—there's potential to live with a well-matched cat. I do best living with adults and could potentially live with older children.
About Austin Pets Alive!
Austin Pets Alive! is a private 501(c)3 nonprofit organization dedicated to stopping the killing of Austin's adoptable dogs and cats.
---
About H-E-B
H‑E‑B is one of the largest independent food retailers in the nation. Today H‑E‑B serves families all over Texas and Mexico in 155 communities, with more than 340 stores and over 100,000 employees.
---
About Well Beyond Care
Well Beyond Care provides the tools that help you plan care and allow your loved ones to safely age in place. It is the only company that teaches families and individuals how to find and manage affordable non-medical in-home care, while solving the chronic problems of caregiver truancy and turnover.
---
Interested in adopting me? Please contact adopt@srgserv.com.
Note: This pet may have found their forever home since the publishing of this article. To see other adoptable senior cuties, visit here.