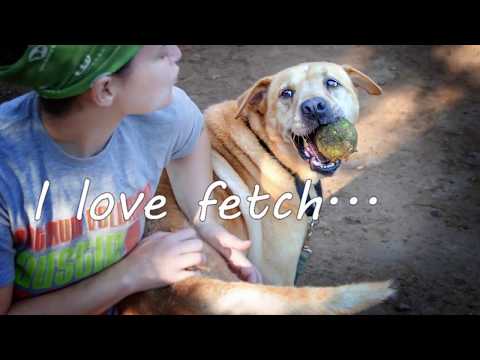 Salutations ladies and gents, my name is Kit. I may be of the canine family, but I am a complete gentleman. Don't be fooled by my regal looks—I can appreciate a good butt scratch. A great butt scratch overloads me with so much joy that I can't help but to fold myself into a fat furry donut of love and happiness.
I like to play fetch and am all around a happy, playful and big snugglebug. I really love walking around with tennis balls in my mouth and I'll even pick one out before going on a walk—"What are we in the mood for today, old chap? Perhaps a Penn 100? Smells like it was a good year."
I have lived in a home before and am house-trained. When I'm ready to go outside to take care of business, I make sure to let you know. I know how to walk on a leash as well as the sit command. I live my life to bring a smile to every face that I see and am hoping that yours will be next.
Sex: Male
Looks Like: Retriever, Yellow Labrador Mix
Current Weight: 54.4 pounds
Age: 10 years, 0 months
Bark Notes: I need to be in an adult-only home and could potentially live with a well-matched dog or cat friend. I have been left home alone successfully!
About Austin Pets Alive!
Austin Pets Alive! is a private 501(c)3 nonprofit organization dedicated to stopping the killing of Austin's adoptable dogs and cats.
---
About H-E-B
H‑E‑B is one of the largest independent food retailers in the nation. Today H‑E‑B serves families all over Texas and Mexico in 155 communities, with more than 340 stores and over 100,000 employees.
---
About Well Beyond Care
Well Beyond Care provides the tools that help you plan care and allow your loved ones to safely age in place. It is the only company that teaches families and individuals how to find and manage affordable non-medical in-home care, while solving the chronic problems of caregiver truancy and turnover.
---
Interested in adopting me? Please contact adopt@srgserv.com.
Note: This pet may have found their forever home since the publishing of this article. To see other adoptable senior cuties, visit here.