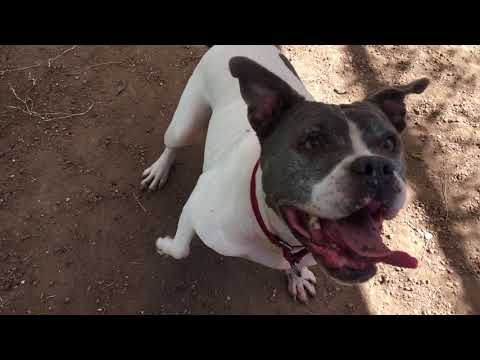 Hi happy humans! I'm Chewy, a short little sausage roll that will strut by with my ears bouncing, tail wagging, hips swaying and a tennis ball or my favorite lamb chop toy hanging out of my mouth.
If you're smiling or feeling a warm, fuzzy feeling in your heart when you look at me, that's the "Chewy Effect." I've noticed that it's impossible for anyone not to smile when I walk by! Some even give a little giggle. I'm a delight to be around and have even rounded up quite the fanbase at the shelter.
My passion and skill for fetching is known far and wide—I dare you to tell me I'm a senior pup! In between fetching sessions, I'll plop down on the floor and roll the ball back and forth to you using my nose. Talented right?
Not only am I housebroken, a comedian and a stellar athlete, I'm also a scholar! I enjoy learning new things. The humans have me in the Total Obedience Program where I have a personalized training plan. I get to work with a volunteer trainer several times a week to help me learn skills to become the best dog I can be! I'm learning skills such as sit and down, walking nicely on a leash, sitting calmly when approached by strangers or other dogs, staying in a sit or down until told "free" and coming when called. Once I successfully complete all the skills on my training plan, I'll be considered TOP Dog Ready!
I'm ready to play a few rounds of fetch with you so you can witness the "Chewy Effect" and the joy it brings in person!
Sex: Male
Looks Like: Terrier, Pit Bull Mix
Current Weight: 53.9 pounds
Age: 7 years, 10 months
Bark Notes: I need to be in an adult-only home and would do best not living with other dogs. I also have mixed notes about being left home alone.
About Austin Pets Alive!
Austin Pets Alive! is a private 501(c)3 nonprofit organization dedicated to stopping the killing of Austin's adoptable dogs and cats.
---
About H-E-B
H‑E‑B is one of the largest independent food retailers in the nation. Today H‑E‑B serves families all over Texas and Mexico in 155 communities, with more than 340 stores and over 100,000 employees.
---
About Well Beyond Care
Well Beyond Care provides the tools that help you plan care and allow your loved ones to safely age in place. It is the only company that teaches families and individuals how to find and manage affordable non-medical in-home care, while solving the chronic problems of caregiver truancy and turnover.
---
Interested in adopting me? Please contact adopt@srgserv.com.
Note: This pet may have found their forever home since the publishing of this article. To see other adoptable senior cuties, visit here.