×
Bob Evans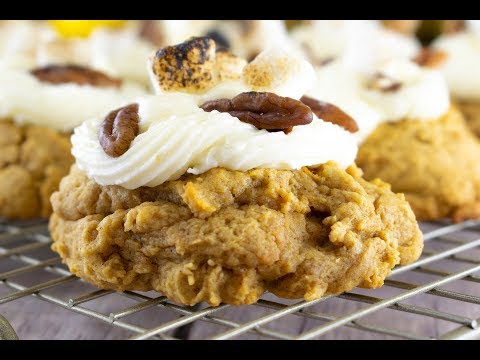 Top off your next holiday get-together with this Sweet Potato Cookies recipe, which saves time by utilizing refrigerated, never-frozen mashed sweet potatoes.
Sweet Potato Cookies
Prep time: 28-33 minutes
Cook time: 10-12 minutes
Serves: 36
Ingredients
3/4 cup vegetable shortening
3/4 cup brown sugar
1 large egg
1 cup Bob Evans Mashed Sweet Potatoes
2 cups all-purpose flour
1 teaspoon baking soda
1 teaspoon kosher salt
1 teaspoon pumpkin pie spice
1 cup butter, unsalted
3 cups powdered sugar
1/2 teaspoon maple extract
chopped honey roasted pecans (optional)
mini marshmallows (optional)
Directions
Heat oven to 350 F. In large bowl, using hand mixer or paddle attachment, cream shortening and brown sugar. Add egg and sweet potatoes; mix until combined.
In small bowl, combine flour, baking soda, salt and pumpkin pie spice. With mixer on low speed, slowly add flour mixture to egg mixture until well mixed. Using small cookie scoop, drop rounds onto greased baking sheets. Bake 10-12 minutes, or until golden brown. Cool completely before frosting.
In separate bowl, beat together butter, powdered sugar and maple extract until frosting is light and fluffy. Frost each cooled cookie with maple butter cream frosting.
Sprinkle with pecans and mini marshmallows, if desired. Carefully toast marshmallows with culinary torch, if desired, while avoiding melting frosting.
(article courtesy of Family Features and Bob Evans)