×
Dallas Buyers Club Movie Trailer
Dallas Buyers Club
×
Movie Review} Dallas Buyers Club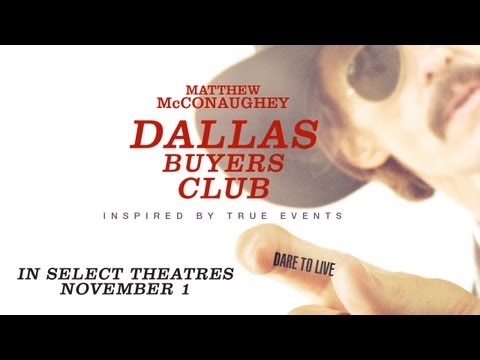 "Dallas Buyers Club" is a tribute to Matthew McConaughey's portrayal of Ron Woodroof who was diagnosed with HIV+ in the 1980's.  That was a time when such a diagnosis was one part death sentence and one part social pariah.  Woodroof was a hard drinker, smoker, and cocaine user.  And a tough cowboy who had the guts to participate in rodeo bull riding.  His first reaction to the diagnosis was denial because only "faggots" had HIV and he was too much of a lady's man. 
Woodroof's friends excluded him, his health rapidly deteriorated, and his world came crashing down.  Pretty Boy McConaughey lost a lot weight for this part.  I was mesmerized by his body language and mannerisms in his interpretation of the troubled and complicated Woodroof.  When McConaughey was on the screen, which is almost every scene, I found myself captivated by his performance which was a huge stretch from the idealist young lawyer (Jake Brigance) in "A Time to Kill" (1996).  This is a part for a big boy and McConaughey, at age 44, shows that he is ready for the big time.  Will he earn a nomination?  He's got a shot.   
Much of the story derives from the 1980's controversy of the FDA's involvement in drugs such as AZT for use in combatting HIV which is the pre-cursor to AIDS.  Ron Woodroof overcame his denial stage and went to work researching his medical options.  There were not many in the United States.  As an audience, we take the trip with Woodroof to Mexico and his ongoing fight with the Feds for possession and the sale of illegal medicine to his fellow HIV/AIDS patients.  This script understood the plight of these people who were desperate for a cure and were willing to stand in line at a seedy hotel to buy the needed drugs.  Most of this movie is sad and depressing, but very well done. 
I've written enough about my admiration of McConaughey, but Jared Leto was also outstanding as Rayon, the transgender activist who helped the bull rider cope with reality and run his drug operation affectionately known as the Dallas Buyers Club.  Jennifer Garner, as Dr. Eve Saks, was perfectly cast and demonstrated her ability to deliver in a part that did not emphasize her cutie sex appeal.  There are a lot of great movies coming our way during the  holiday season which is extremely exciting, so choose wisely, as you probably have not yet seen the Best Picture or Best Actor/Actress. 
---
Grade 89.
---